The Forbeck Research Foundation was established in honour of 11-year-old Billy Forbeck, who sadly passed away from neuroblastoma in 1984. Every year, the Foundation organises a Forum to exchange ideas to further progress in the fight against cancer. The Annual Forum is held in an intimate venue where ~20 scientists and clinicians from around the world discuss unpublished work and seek opportunities for interaction – which has resulted in highly productive interdisciplinary collaborations. This year, the topic is Cancer Predisposition.
Each year the Foundation selects four young investigators from around the world as Forbeck Scholars to attend the Annual Forum in their year of election and four subsequent Scholar Retreats which offers the opportunity to set up collaborations, meet with experts from different areas of cancer research and discuss novel ideas. This year, Daniela has been selected as a Forbeck Scholar and will attend the Annual Forum in Lake Geneva, WI in November.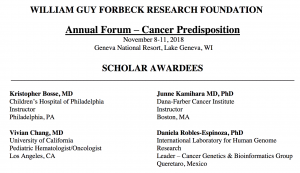 This news is very exciting as it will offer an opportunity to discuss the lab's work in depth with other clinicians and scientists from around the world.
About the William Guy Forbeck Research Foundation: https://www.wgfrf.org/
About the Scholar Award: https://www.wgfrf.org/scholar-award/
Past winners: https://www.wgfrf.org/scholars