Accomplishments and perspectives of LIIGH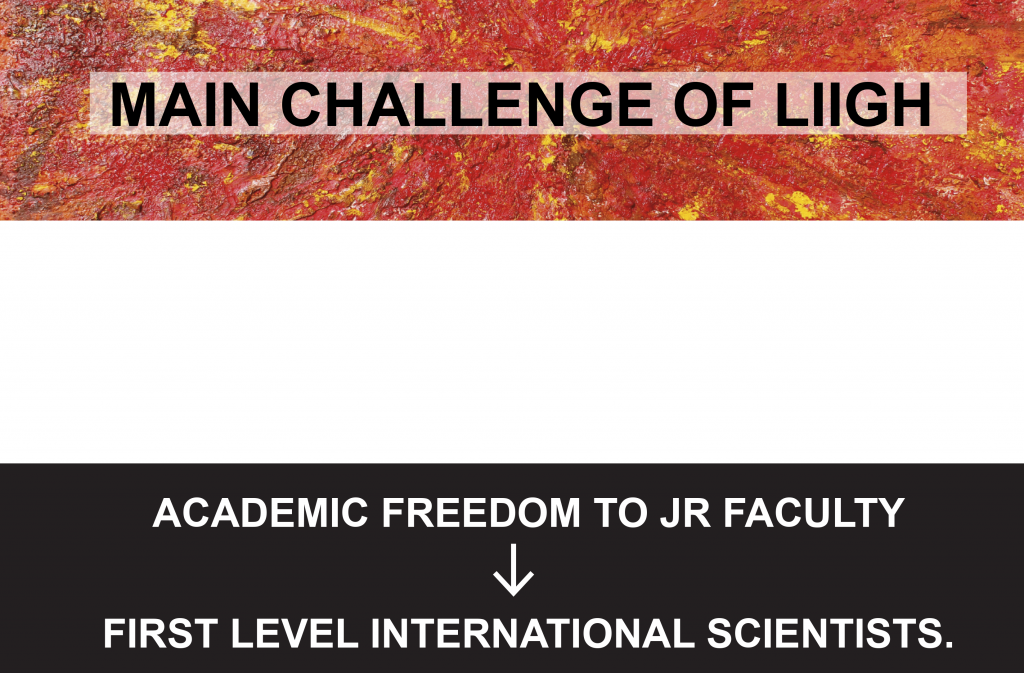 REQUIREMENTS OF AN INDEPENDENT YOUNG RESEARCHER
RESEARCH POSITION

ACADEMIC ENVIRONMENT

ACADEMIC COLLABORATIONS

GRANTS

GRADUATE STUDENTS/POSTDOCS

PUBLICATIONS
In order to develop her or his whole scientific potential a young researcher needs to have a ressearch position as well as direct access to 1) a high level academic environment, 2) establish collaborations with leaders of the field,  3) be in the position of obtaining research grants, 4) be able to atract graduate students and postdoctoral fellows, and 5) publish in high impact journals.  In the next section of this report we will analize these aspects, taking as examples the achievements  of our four junior faculty members.
LIIGH ACADEMIC ENVIRONMENT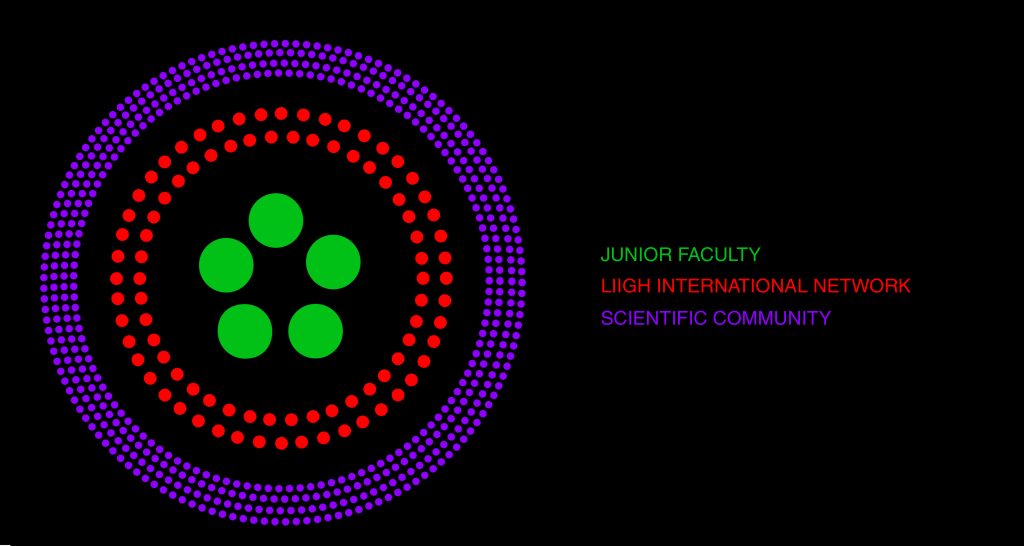 The LIIGH has been developing an academic enviroment at the highest National  and International level. The center circle represents  a particular junior faculty member. The next circle respresnts the Junior faculty of LIIGH and the LIIGH scholars. The blue circle represents the National Genomics Network (Red Genómica Nacional). The red circle represents International leaders  that have had  a direct contact with LIIGH as either invited professors or participants in our International Colloquia. Finally the purple circle represents  the whole scientific community.
LIIGH INTERNATIONAL PANORAMA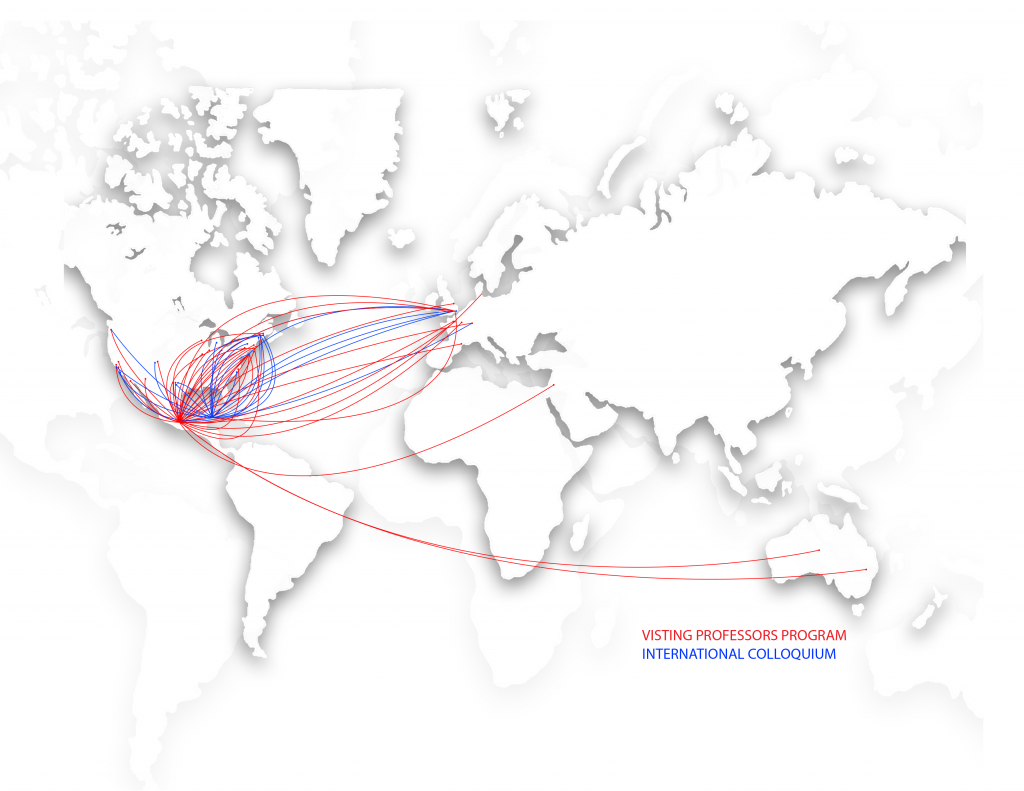 Map indicating LIIGH International Scientific relations. Each line indicates the location of the  corresponding Institutions, and the color code indicates the origin of the relation.

At present LIIGH has five Junior faculty members: Alejandra Medina Rivera, Lucía Morales Reyes, María del Carmen Ávila Arcos,  Daniela Robles Espinoza and Diego Ortega del Vecchyo. By 2021 we expect to have about 15 junior faculty members.
LIIGH JUNIOR FACULTY INTERACTOMICS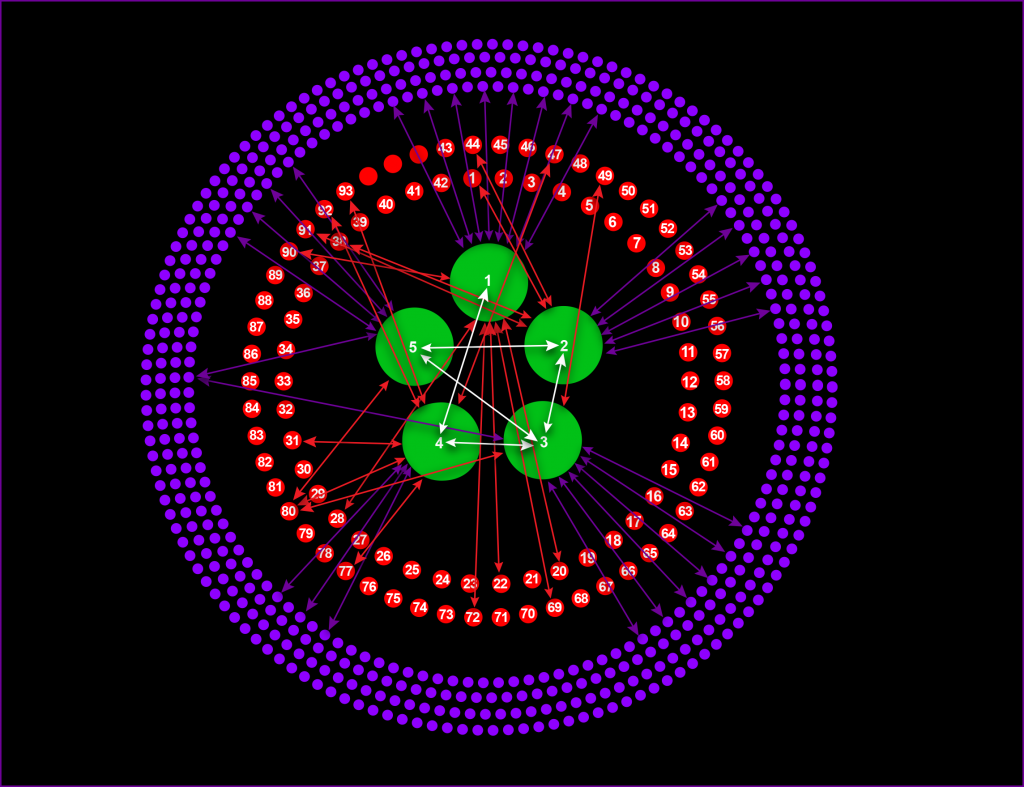 The Junior Faculty members of LIIGH are represented as green circles: 1, Alejandra Medina Rivera; 2, Lucía Morales Reye; 3, María del Carmen Ávila Arcos; 4, Daniela Robles Espinoza, 5 Diego Ortega del Vecchyo. Each doble headed arrow represents a collaboration with a specific member of the indicated circle. Only collabrations with specific goals (e.g. Projects in collaboration, Co-mentoring students ,  Co-organizing periodic scientific meetings) are shown. All collaborations presented here are explicitly described in Apendix 4.
GRANTS OBTAINED BY JUNIOR FACULTY AS PRINCIPAL INVESTIGATORS
AWARDS OBTAINED BY JUNIOR FACULTY AS PRINCIPAL INVESTIGATORS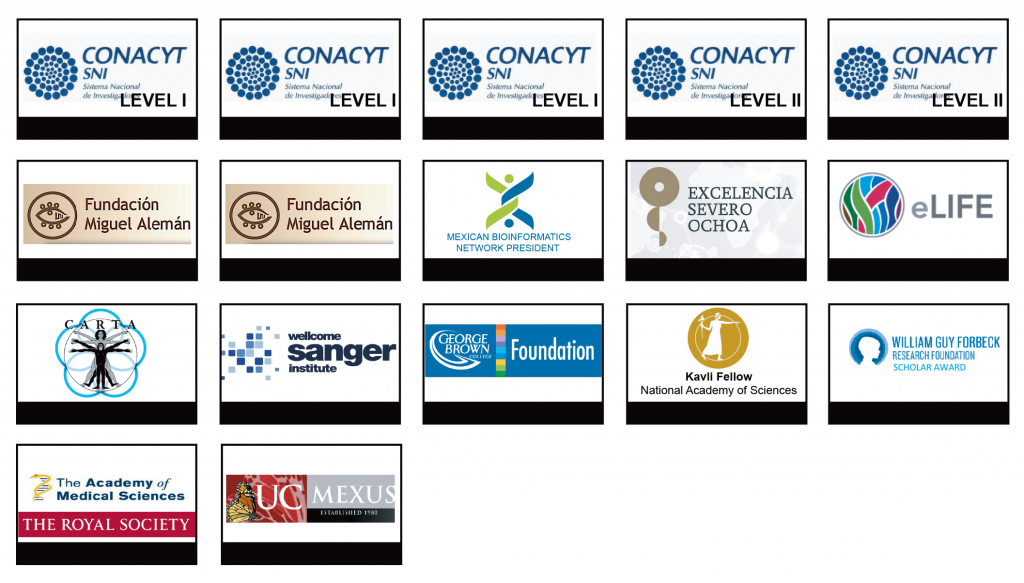 The four Junior Faculty members have obtained a total of 11 grants and 2  awards from the Institutions indicated above. The specific grantsand awards are described in Apendix 2.
STUDENTS OF LIIGH JUNIOR FACULTY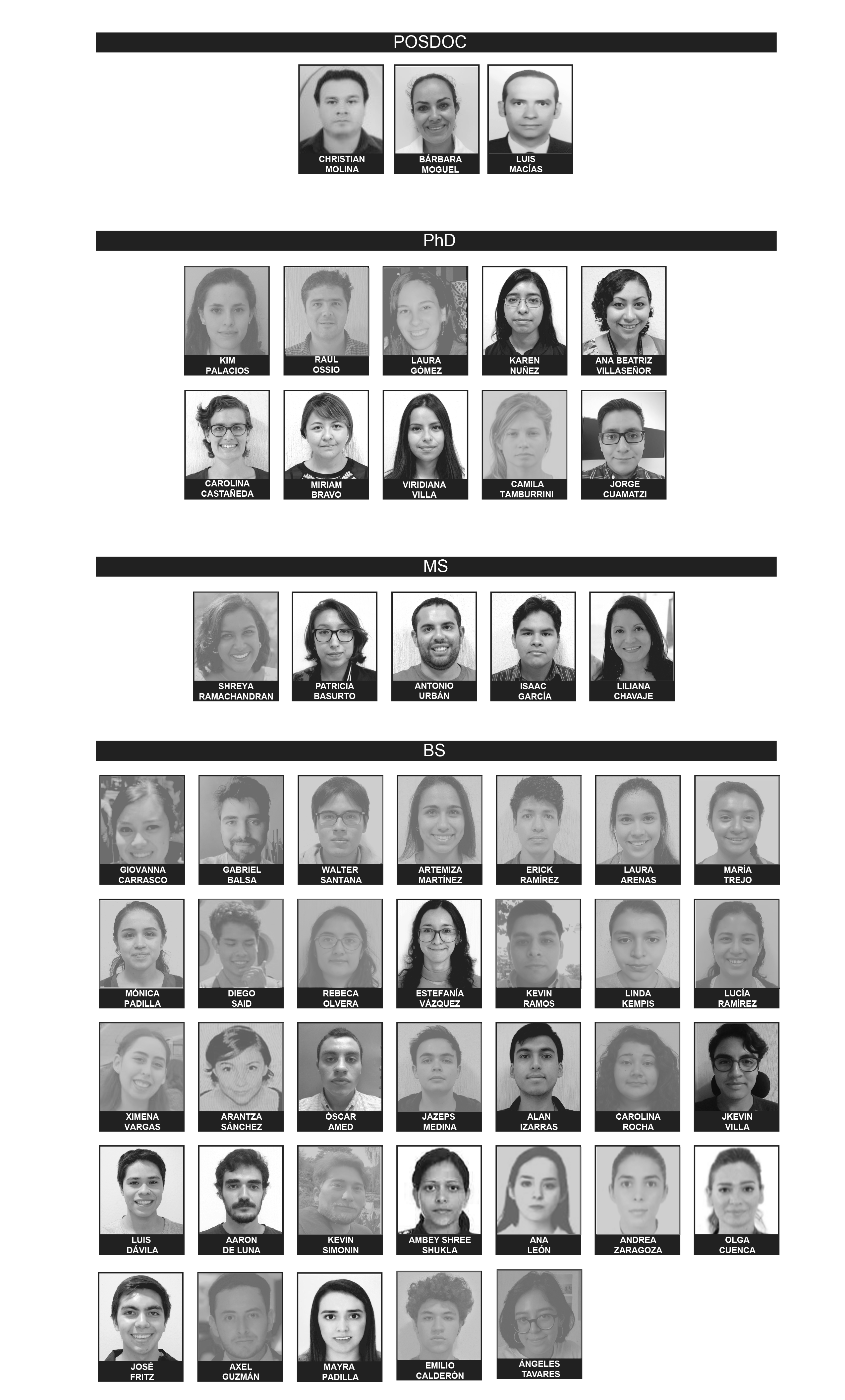 The four junior faculty members of LIIGH have incorporated  students of different training levels into their research groups: Postdoctoral, Doctoral, Master Sciences, and Bachelor in Sciences.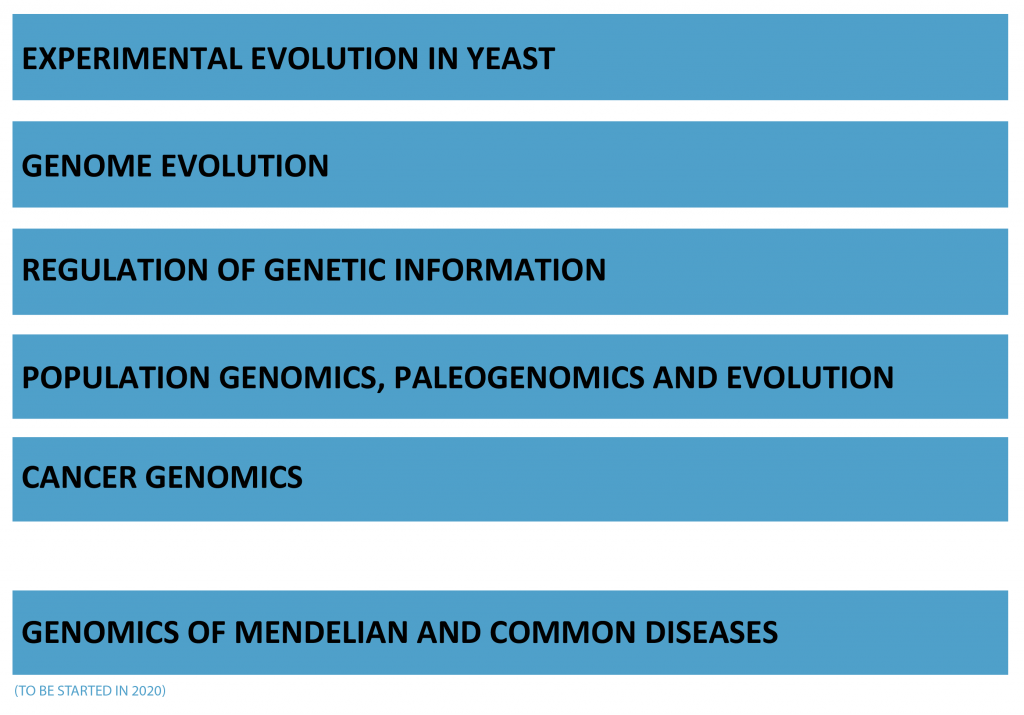 PERSPECTIVES: COORDINATION DRIVEN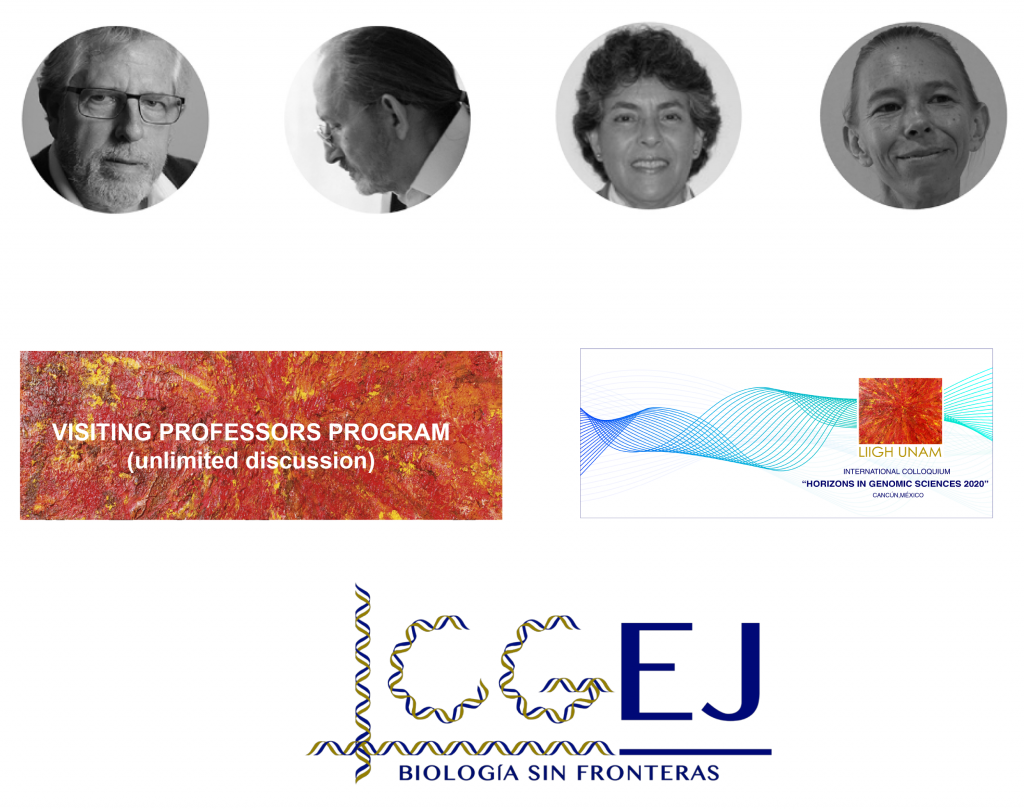 For the near future the main interest of LIIGH is to continue recruiting young mexican scientists as junior faculty. At present we have four junior faculty groups. We expect to have a total of 16 junior faculty groups by 2022. The Coordination will continue organizing the Visiting Scientists Program, The annual International Colloquia, and the Internal Colloquia, as well as participating in the activities  of the National Genomics Network. As new perspectives we will collaborate with other Institutions in promoting: 1) the establishment of an Internationak Network of Genomic Sciences including UNAM, CINVESTAV, INMEGEN, and International Institutions, in particular Cold Spring Harbor Laboratory; and 2) the incorporation of the Undergraduate Program in Genomic Sciences, in the recently created Escuela Nacional de Estudios Superiores Juriquilla, ENES Juriquilla.
PERSPECTIVES: JUNIOR FACULTY DRIVEN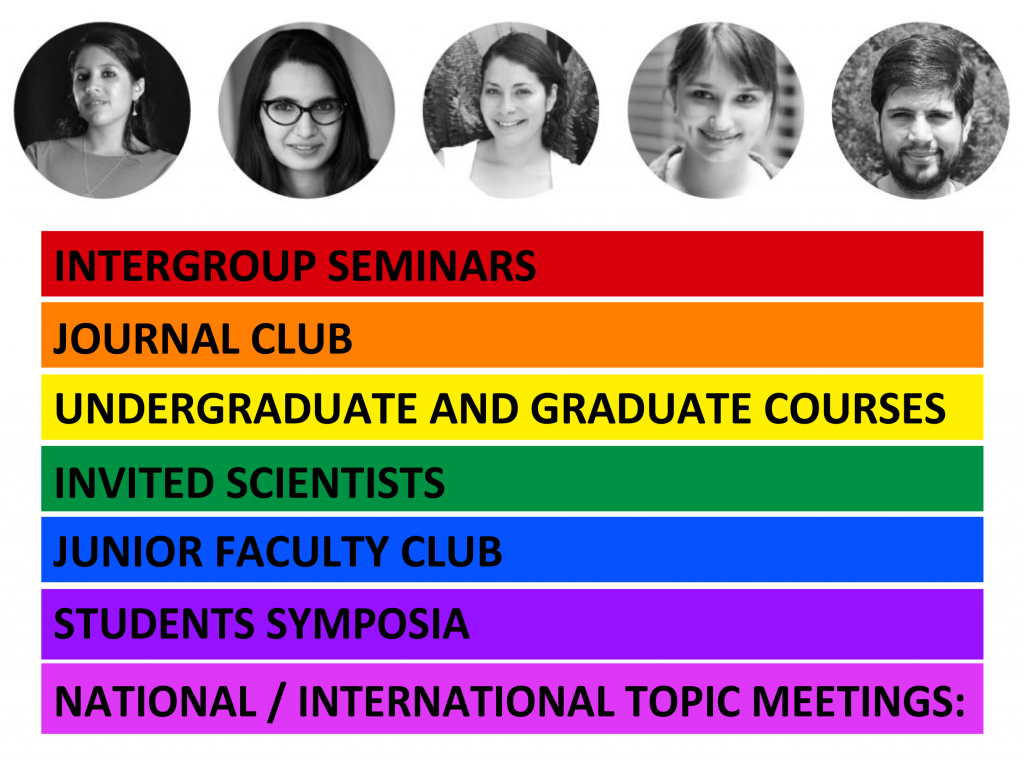 The Junior Faculty members are promoting different academic activities. Currently such activities include: Intergroups Seminars, Students Seminars, Journal Club, Undergraduate and Graduate courses, and National or International topic meetings. Among the last are the  Mexpopgen (Mexican Population Genetics) Meeting  and the SoiBio (Sociedad Iberoamericana de Bioinformática) Meeting.